Oh Canada – Protesters hang from Vancouver Bridge to honour Flag Diversity
Flags of all colours being waved across Vancouver Bridge today!
Vancouver, July 3, 2018  –  In Honour of Canada Day being extended into week long celebrations, many people have taken to Ironworker Memorial Bridge in Vancouver to show their support for Flags!
Canada is not the first to celebrate Flag Diversity. Sheldon Cooper has been doing it for years!
The Memorial Bridge in Vancouver, built by Beavers in 1892 was constructed in near record time.
Here is original footage, courtesy of the Royal BC Mewseum, colorized….
Thanks to Greenpeece Canada –  This magnificent bridge, and Flags of our fathers, ooops, people, will be saved forever!
Speaking of which, did you know the CANADIAN FLAG was only introduced in 1965!?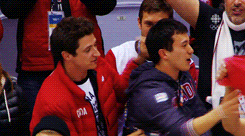 Folks… I'm still on Vacation… but I'll be back with more hard-hitting news!Cheers.

Kelly.